Coffee Shop
Our comfortable coffee shop is open to the public where you may enjoy fresh home cooked food at reasonable prices. The dining area seats 30 people and we also have an outdoor area to enjoy a cup of coffee, weather permitting. The casual, friendly atmosphere is perfect for a conversation which friends while you sip a coffee with a favourite slice of cake from our dessert menu.
Our menu ranges from hearty breakfasts to tasty lunches to delicious dinners. Enjoy our desserts which include an assortment of freshly baked scones, muffins and apple pies. Other treats such as flans and a scrumptious carrot cake are baked daily.
Why not take the hassle out of your function by ordering your food platters from us.
All of our food is fresh and locally sourced.
Opening Hours: Monday to Friday 8.30am-3.30pm
Contact: Irene Skerry (manager) 01 820 6416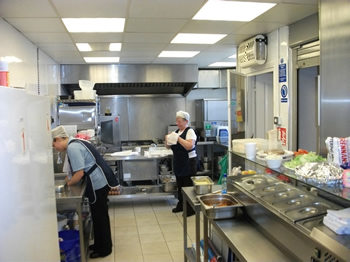 Sample food platter: Gougons, cocktail sausages, chicken wings, vol au vents & dips
Sample Daily Menu: Full Irish breakfast, soup & sandwiches, Philly steaks
Lunch of the day: Meat, vegetables & potatoes, pasta, omelette & chips, egg & chips
Desserts: Apple pie & custard, Fresh fruit flan, carrot cake
All above reasonably priced